Detroit Documentaries compilation DVD
This DVD contains all three of the Detroit Documentaries.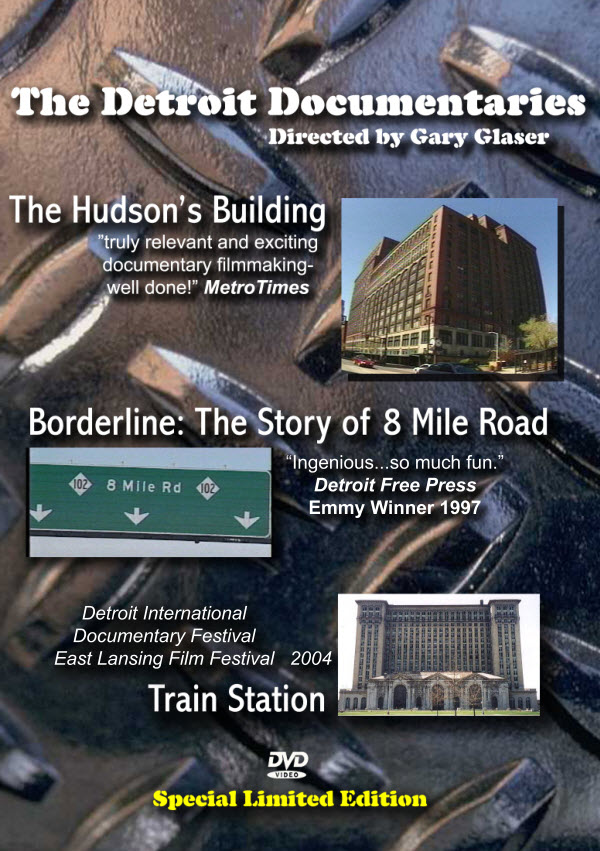 Borderline: The Story of 8 Mile Road This program captures the spirit and eccentricity of metro Detroit's most provocative thoroughfare.
No other road in Michigan evokes a response like the one you get when you mention 8 Mile. From topless dancers and the neighborhood groups that battle them, to storefront preachers and the homeless people they minister, 8 Mile remains our areas most notorious boundary.
Thoughtful commentary from Jerry Herron, Director of American Studies, and Ronald Stephens; associate Professor of Communication (both from Wayne State University) provide context and analysis. The documentary also features an interview with Mr. Belvedere (his office is on 8 Mile) as well as clips from some of his classic commercials. Part history, part pop culture, this film like a ride down 8 mile, is both thought provoking and entertaining.
1997 Emmy Winner
What 's great about BORDERLINE is the sheer enjoyability of it visuals...it's a quirky, thoroughly enjoyable, mini-portrait of Detroit... "
(3 Stars!)
Detroit MetroTimes
"
...ingenious...so much fun..."
Detroit Free Press
Written and Produced by Gary Glaser and Dave Toorongian
Directed by Gary Glaser
Narrated by Kim Hunter